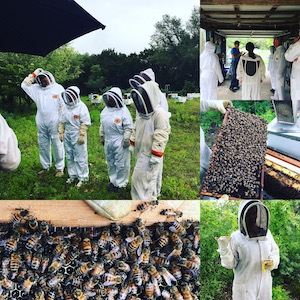 LEARN from expert beekeepers in the bees at Texas Honey Bee Farm in Austin. Our beekeeping lessons are part in classroom and part hands-on, when you finish the course you will be ready to go into your own beehive. We also offer classroom-based learning on a variety of other bee-related topics.
Last classes BEFORE FALL :  (Choose from the Calendar at bottom of page)
JUNE 11, 2023 – Beekeeping 101 – 9am-1pm AND Beekeeping 201 – 2pm-6pm
The next 101 class will most likely be in MID to Late SEPT – weather dependent (when it stops being SO HOT HERE!)
The next 201 class will most likely be in October 2023.
BEEKEEPING 101: Our newly revamped Beekeeping 101 Class is all the classroom instruction you need to get started in beekeeping. With years of beekeeping instruction experience our Bee Experts have put together a concise course that covers everything you need to know before lighting your smoker for the first time. Our Bee Deck will be used for a live hive lesson at the end of our class – pulling much of what you learned into practice. Learn from EXPERIENCED Texas Beekeepers. See the calendar below to select your class and reserve your spot. Class location is Texas Honey Bee Farm: 9874 Wier Loop Circle; Austin, TX 78736.
BEEKEEPING 201: This class goes more in depth with how to care for your bees the first year and beyond. We cover seasonal management techniques, pest control, and more.  The 201 Class includes a hands-on portion where you will work along side a Master Beekeeper in the hives and learn inspection and handling techniques. Outdoor portion requires bee protection, smoker, and hive tool. Please dress appropriately, wear clothes-toed shoes or boots and limit perfumes. (We can supply beesuits, etc as needed by request)
We typically offer classes ONLY during the cooler weather. We start them in the springtime in February or March and stop when it gets too hot in June or July. Then we start classes up again as the weather gets cooler again, usually in September through November.   We do NOT offer the 101 or 201 classes in JULY or AUGUST, it's just too hot to suit up and work bees for the beekeepers/students.  We do NOT offer the 101 or 201 classes DECEMBER or JANUARY because its usually too cold to open the beehives.   Everything about beekeeping is VERY weather dependent.
You may also click on the class you want in the calendar below to book it now if you already know your date! We do NOT offer 101 or 201 classes in JULY, AUG, DEC, or JAN. We try to post new classes as least 1 month in advance of the class date, please be patient as we are watching the weather to see when we can have classes.